NOCTERNITY – HARPS OF THE ANCIENT TEMPLES 2LP (Iron Bonehead Productions)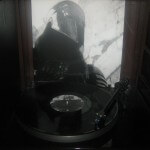 Third full-length, 'Harps Of The Ancient Temples', sure represents a glorious return for Nocternity. One-hundred-and-eighty-million years in the making, the follow-up to 'Onyx' delivers almost 48 minutes of supreme, predominantly-mid-to-slow-paced, atmospheric Black Metal of the highest calibre.
Generally speaking, these eight offerings constitute a dramatic change of direction for the Greek (/German) outfit (Lunar Aurora influence detectable…) but, personally, I believe 'Harps Of The Ancient Temples' is probably the band's best work to date.
The vinyl edition comes in a gatefold sleeve, with two printed inserts featuring lyrics, two anti-static inserts as well, a poster and damned if even the etching on Side D doesn't exceed expectations. In summation, both the music and the presentation here are outstanding in every way, making this a genuine no-brainer.
Evilometer: 666/666