ENCOFFINATION – III: HEAR ME, O' DEATH (SING THOU WRETCHED CHOIRS) 2LP (Selfmadegod Records)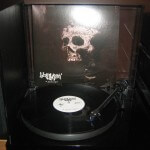 The third full-length from Encoffination is – as one would expect – crushing, oppressive, desolate and harrowing beyond almost all tolerance. In the paradoxical world of extreme entertainment, these are of course values to be welcomed.
A veritable litany of positive-negative virtues align to make this a truly unsettling listening experience. Traumatic, tortuous Death Metal played at Funeral Doom pace, 'III: Hear Me, O' Death (Sing Thou Wretched Choirs)' is a superb acquisition (especially in this spectacular double-vinyl format), even if it isn't Encoffination's best work.
Evilometer: 555/666