SORTILEGIA – ARCANE DEATH RITUAL 2LP (Ván Records)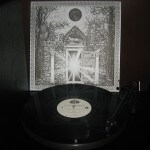 Bereft of all sense of spirit and soul, the modern consumer wants ten million songs crammed onto a nanostick the size of an ant's cock. The double-vinyl edition of Sortilegia's debut full-length represents the very antithesis of such mass consumption and rampant, meaningless consumerism.
Here, we have two huge slabs of black wax; a heavy-as-fuck gatefold jacket; a pair of weighty inner sleeves; and a poster that measures four foot square. Damn, there's even a spare Side D with nothing on it…
Where would a modern fuckface store such a monstrosity? The fact that 'Arcane Death Ritual' also happens to contain some 50 minutes or so of mesmerising, analogue, underground Black Metal art (long and mystical obscure odes) seals the deal.
A stunner.
Evilometer: 666/666