EVAPORATED SORES – ULCEROUS DIMENSIONS LP (Sentient Ruin Laboratories)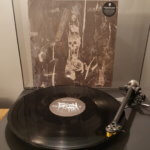 It would be no exaggeration to describe Evaporated Sores' challenging debut full-length as a hideous maelstrom of unforgiving auditory chaos, for 'Ulcerous Dimensions' blends a multitude of extreme music styles into one heaving, seething outbreak of unrestrained obliteration. There's sick and twisted, suffocating, lo-fi Death Metal at the heart of it, but you can also find Industrial Noise, Power Electronics, Doom, Grind and even Sludge swirling around in the distasteful cauldron of filth.
As a requiem to mankind's annihilation, 'Ulcerous Dimensions' is suitably unpalatable, the barbaric atmosphere that prevails across its 34 minutes embedded in a sonic sickness that is forged from fire and fury, no need to step on the gas or throw in blast beats for the sake of it when you have a knack for crafting nightmarish music that transcends categorisation.
If somebody walked into the room while I was listening to this and asked me what it was, I don't think I'd be able to provide an adequate answer. Similarly, it's not an easy record to review or assess as 'Ulcerous Dimensions' is many things at once yet none of these exactly. It's essentially a hybrid of depraved extremity, crushing Death / Doom with strong Industrial / Noise undertones.
If you put Iron Monkey, Napalm Death, Godflesh, Gnaw Their Tongues, Khanate, Portal and some hallucinatory drugs in a fuck-off blender, something like this might come out the other end. The unique nature of Evaporated Sores, which renders them nigh on impossible to pigeon-hole, means they are unlikely to find a niche or reach a huge audience … but somehow I don't think that was ever their intention.
Evilometer: 555/666