FLAGELLANT – MALEDICTVM LP (World Terror Committee)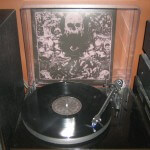 On 'Maledictvm', Flagellant continue pretty much where they left off three years ago with their debut LP, 'Monuments'. What we get is eight slow-to-mid-paced tracks of good but not particularly great Black Metal; Swedish but in the vein of Poles Mgła or Finland's Clandestine Blaze. Quite melodic and catchy. If you like those bands, then it is a safe enough bet that you will also enjoy 'Maledictvm'.
This isn't a record I'll be waking up early in the morning thinking about and tearing down the stairs with an erection filling my boxers, but it is one that I'd still prefer to take rather than leave.
Gatefold cover and booklet included, with lyrics. All in all, even though it's not going to greatly enhance the quality of your life, I still think you might be better off with this record than without it. Because reasonably good Black Metal is still way better than most things in life…
Evilometer: 444/666