MAYHEM – ESOTERIC WARFARE (Season Of Mist)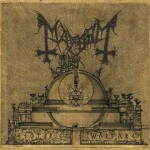 After a seven-year wait, the legendary Mayhem return with their fifth full-length. Has it been worth the wait? Not really. Mayhem have an irritatingly huge sound now, their music so crisp and polished and well-produced that they are no longer of the underground. Granted, the vocals on 'Esoteric Warfare' are astonishing but everything else about it is boring and brash and grand and ultimately very forgettable. You can take it or leave it and I prefer the latter course of action.
Seems to me that when Black Metal bands step out of the underground into the big time, they just sound redundant and disposable. Safe and cynically-precise BM aimed at a wider audience. Arena Black Metal. Who cares if it is perfectly executed when it has no soul? Shame, really, because Atilla delivers a performance that could have been awesome had it been supplemented with raw Black Metal rather than accessible, melodic industrial metal / rock on a truly bombastic scale.
Evilometer: 111/666