GESPENST – FORFALD LP (Duplicate Records)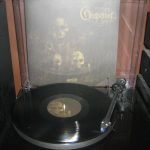 'Forfald' is one of those that brings nothing new to the Black Metal altar and therefore its merits or lack thereof can be determined or interpreted in accordance with your prevailing mood on any given day … is it a pointless exercise in by-the-numbers BM that has no right to exist or a perfectly-executed homage to the progenitors and nurturers of the subgenre we love so well?
Generally, in these situations I tend to give the artist the benefit of the doubt. At the end of the day, I'm here because I love Black Metal and Gespenst serve up some fine-to-fantastic music on their debut full-length. Four lengthy tracks – two in English, two in Danish (I think) – adding up to some 38 minutes or so, all clothed in a gatefold jacket with lyrics included.
Mid-paced, atmospheric Black Metal that doesn't reinvent the wheel by any means but wheels serve their purpose just fine as they are and don't really need to be reinvented. The strength of this confident, competent album is that it is quite basic and true to the tried-and-trusted second-or-third-wave Black Metal sound (with some spacey atmospheric ambience and samples dropped in for good measure); the weakness isn't really monotony or lack of innovation but rather that – for all its triumphs – 'Forfald' is perhaps a little too lush and melodic (no shrill shrieks to be found here).
Ultimately, this easily-enjoyed record is hamstrung by an absence of genuine rawness, filth or darkness (eschewed in favour of an almost Cascadian aura) but it is still well worth investigating / acquiring.
Evilometer: 444/666