URFAUST – EMPTY SPACE MEDITATION LP (Ván Records)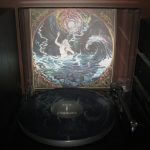 I'm finding that I have to be in the right mood to enjoy Urfaust these days. And I'm not sure what that mood is, exactly. I've given the much-heralded 'Empty Space Meditation' countless spins and have only enjoyed it once to date.
Today, it sounds bland, boring and uninspired again. An irritating record, with some redeeming features but not enough of them.
I'm at something of a loss considering how much I loved the band's previous output – most notably 'Der Freiwillige Bettler' and 'Apparitions' – and how positive the general response to this release has been. Guess it's that law of diminishing returns.
Evilometer: 111/666