GEVURAH – HALLELUJAH! 2LP (Profound Lore Records)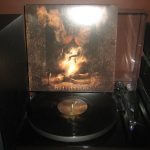 If for nothing else, Gevurah deserve kudos for not sticking a dumb etching on Side D. Instead, we get a 20-minute, ambient bonus track, which brings the total running time of 'Hallelujah!' on black wax to an alarmingly generous 85 minutes.
Thus, there's so much here to get one's head and ears around that I've somewhat ironically found Gevurah's debut full-length to be much more challenging than the vast majority of albums in my collection. Which takes a bit of doing…
This release demands a lot of time. After perhaps 15 listens, I feel like I've still barely skimmed the surface. It's orthodox Black Metal, with studied and carefully-crafted lyrics – in both French and English – fixated on God and Satan and all that nonsense.
You also get a poster and gorgeous 16-page booklet so you can read (along? – that's what I still like to do, even after all these years) over and over again what this Canadian duo wish to elucidate about the whole religious thing. I'd prefer not to think about it at all myself seeing as everything mentioned in the bible is about as real as tax-free income.
Evilometer: 666/666