BLACK DEVOTION – CEREMONIAL RITUALS OF DEMONIC CHAOS LP (Astral Nightmare Productions)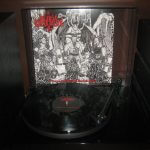 Black Devotion's debut full-length, 'Ceremonial Rituals Of Demonic Chaos', is one that's been flying well below the radar for about a year now but deserves a lot more attention than what it's been afforded.
Without hype or the support of a clever, well-connected label, many great underground releases just disappear into obscurity and this is one such effort.
There's half an hour's worth of solid Death / Black Metal on here, featuring the eminent Nocturnus Dominus of Unhuman Disease infamy, and I believe it's well worth checking out, especially if you can't get enough of Archgoat and their ilk in your life.
Evilometer: 555/666