GJENDØD – EVIG SVART HAT LP (Darker Than Black Records)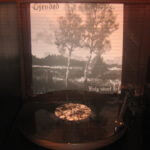 'Evig Svart Hat' collates nine of the ten tracks from Gjendød's first three demos – namely 'Gjendød', 'Havet Tar' and 'En Ny Vår For Hat' – onto one sublime record that is very much the epitome of raw, primordial Norwegian Black Metal.
The Trondheim time travellers have conjured a collection that is dark, creepy and utterly mesmerising, plucked from the heart of the tundra and without doubt one of the best albums I've purchased in the past twelve months or so.
The songs are laced with that magical, elusive aura of authenticity that so many bands lack. Like they were there when it mattered. As a specimen of underground Black Metal, this is very much the real deal. Sounds fresh and dependable every time I go back to it … and that takes a lot of doing these days.
Evilometer: 666/666