LIHHAMON – DOCTRINE LP (Nuclear War Now!)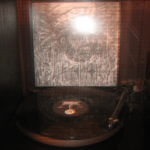 Hailing from the industrial city of Leipzig, uncompromising German three-piece Lihhamon recorded their astonishing debut full-length on their own steam in 2015, without having sourced a label. 'Doctrine' features half an hour of bludgeoning, bestial Black / Death Metal in the vein of Conqueror, Revenge, Black Witchery or Diocletian and it's no major surprise that the vinyl edition of this wonderful album has found its home on NWN!.
Pummeling and relentless violence erupts through the speakers during the course of an emphatic, thunderous, cacophonous demonstration of power. From composition through to execution and presentation, everything about the record is nigh on perfect. In short, this is simply an awesome aural assault.
Evilometer: 666/666