GORRCH – GORRCH (Schattenkult Produktionen)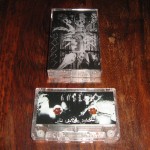 Featuring Chimsicrin from Chelmno (a band I need to listen to properly), Gorrch is a new Dolomitic Black Metal duo worthy of you attention. This self-titled EP is only 21 minutes long but the five songs on 'Gorrch' are of a very, very high quality. And the cassette – which is limited to 200 units – will set you back a mere €3!
However, if you are seeking something professional and polished, look elsewhere. This delightful tape comprises ancient, underground Black Metal from the deepest, darkest trenches; eerie, haunting and with a genuine otherworldly vibe. It swirls, cascades and wraps itself around you like ravenous tendrils / branches, devilishly layered and textured, but very much analogue and authentic.
A lot going on and it reveals itself slowly, getting better with repeated listens. I have a great deal of time for the underground ethos of Schattenkult Produktionen and its ability to unearth exciting new sounds (like the astonishing Sale Freux); Gorrch is another fantastic discovery.
Evilometer: 555/666