GRAIL – THE MORNING OF DISILLUSIONMENT LP (Sol Records)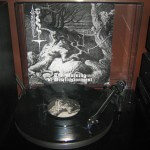 Originally released on CD three years ago, 'The Morning Of Disillusionment' is a demo (whatever that means any more) from German trio Grail, who share members with interesting young upstarts Shores of Ladon. The vinyl edition presents the 40-odd minutes within a classy package, which is widely available for a mere pittance (around €13).
Although far from exceptional, this is nonetheless a very good Black Metal record (including some cool samples), which I've given four or five spins already but may not revisit too often in the future.
Side A comprises 'The Morning of Disillusionment (Part One)', 'The Morning of Disillusionment (Part Two)' and 'The Morning of Disillusionment (Part Three)' (I pay myself by the word…), featuring lyrics taken from an Aleister Crowley poem or suchlike. These lyrics are included and I have read them: the word love is mentioned a lot so I deduce that The Great Beast must have been a bit of a sap.
Evilometer: 555/666