OFERMOD – THAUMIEL LP (I Hate Records)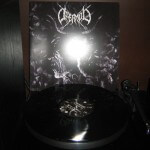 What a sickener! The hideous clean vocals kick in on 'Calling of Setnacht: Twofold Triunity' and continue unabated on the absolutely horrendous 'Undead Moon', which sounds like an embarrassing audition for the Eurovision Song Contest. Is this Black Metal or Euro Pop?
The remainder of the record is rendered irrelevant. Thanks but no thanks.
Evilometer: 000/666