GRUDOM – TROLDVISER I GRANSKYGGE LP (Mysticism Productions)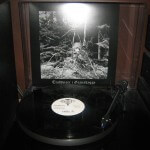 In the same way that acts like Wulkanaz and the True Werwolf are completely insane, Grudom is also more or less batshit. 'Troldviser I Granskygge' follows on where the excellent 'Fjølkyngi' left off and provides another unnerving dose of lumbering dementia that's arguably not even Black Metal but certainly is wired to the moon.
I find this record thoroughly enjoyable and I note also that the label has managed to include a nice insert, which is welcome. More bonkers than raging and definitely worth acquiring, if you can. Godspeed.
Evilometer: 666/666