HERESIARCH – DEATH ORDINANCE LP (Dark Descent Records)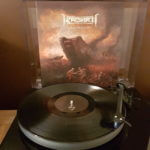 Do we really need another Diocletian? Another Witchrist? More chaotic, barbaric brutality from New Zealand? Is there room for such an excess of war-mongering mayhem in our wretched, lemming-like lives? Of fucking course there is.
Listening along to Heresiarch's debut full-length, 'Death Ordinance', whilst reading the well-crafted, graphic lyrics, one is transported to the trenches to inhale the glorious stench of cordite, napalm, blood, smoke, entrails, sweat, tears, fear, shit and death.
Unfettered, violence erupts through the speakers into your ears and death is everywhere.
Evilometer: 666/666