NATTFOG – MUSTAN AURINGON RIITTI LP (Hammer Of Hate)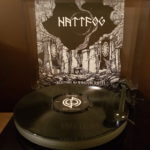 Although Nattfog's debut full-length is more than six years old, it's only in the past six months that 'Mustan Auringon Riitti' emerged on black wax. Finally, I managed to hunt down a copy.
Forty-three minutes long and comprising four actual songs / odes / elegies – two in English and two in Finnish (I'm hazarding an uneducated guess) – dovetailing majestically with three valiant, mournful instrumentals, this delightful album is a masterclass in mid-paced, emotional, ancient, heathen Black Metal; spiritual, patriotic and proud.
Deeply proud of the old times, the old ways, the old ones. Strange how these wistful, sentimental lamentations can be so uplifting. Superb.
Evilometer: 666/666