ALMYRKVI – UMBRA LP (Ván Records)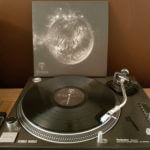 'Umbra' showcases the incredible talents of two of the most exceptional musicians in Black Metal right now – band mastermind Garðar S. Jónsson and his regular partner in crime Bjarni Einarsson, both also of Sinmara and Slidhr infamy.
The debut full-length is even more ambitious, experimental and downright awesome than the teaser that landed to whet out appetites in the guise of the superb 'Pupil Of The Searing Maelstrom' mini album a couple of years back.
Unashamed Blut Aus Nord worship remains very much to the fore but Almyrkvi has become a worthy and relevant unearthly Black Metal entity in its own right, here delivering six catchy, atmospheric, cosmic rituals that sound equally amazing blasting through the speakers or insulated in headphones
Superb sounds, great compositions, excellent execution and an organic production combine to make Almyrkvi's first album a complete no-brainer.
Evilometer: 666/666