HRÆ – ÞAR SEM SKEPNUR REIKA (Goathorned Productions)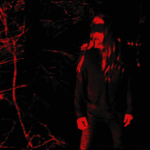 The sole vision of prolific Icelandic multi-instrumentalist I. (AKA Þ.I. of Guðveiki and Þórður of Endalok – two wonderful entities in their own right), Hræ strikes with intriguing and darkly philosophical debut full-length, 'Þar Sem Skepnur Reika', a dissonant and impenetrable dose of experimental but still thoroughly enjoyable Black Metal delivered at a variety of tempos and tones, always unnerving and innately wicked.
The brief 'Sköpunarverkið' erupts first through the speakers, somewhat reminiscent of luminaries Deathspell Omega and Clandestine Blaze but performed with more restraint, slower, pensive and haunting. At nine-and-a-half minutes, 'Tungur Og Eiturský' is the longest lamentation on offer and it's a veritable smorgasbord of dark, dizzying emotions, rife with disorientation and disarray, clear DSO influences remaining very much to the fore.
The lyrics / vocals are in I.'s native tongue but can of course be instantly copied, pasted and translated online (Bandcamp does it automatically on Chrome, if prompted) – how the world has changed! – so I quickly learnt that the second track (translated as 'Tongue And Poison Cloud') is about poisonous rains depriving the earth of all life, its predecessor equally bleak, life poured into a bottomless pit.
Throughout the album Hræ's message remains suitably glum and despondent, preoccupied predominantly with death, decay and the eradication of man, whose worthwhile contribution to the world is of course utterly negligible. Impossible to argue with that philosophy! Musically, 'Þar Sem Skepnur Reika' is a highly-impressive and –accomplished orthodox-sounding, fairly melodic Black Metal album, with shards of angular dissonance ensuring it is never predictable, always shifting in unexpected directions. It's excellently crafted and the gear shifts are seamless, the mood remaining dark and downbeat.
Evilometer: 555/666