WODULF – WARGUS ESTO LP (Breath Of Pestilence)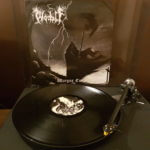 Wodulf released the 'Wargus Esto' demo on tape in 2003 and its running time has been bolstered to 44 minutes from the initial 27 for this wonderful vinyl edition, with the addition of three suitably stirring bonus tracks (including the truly exceptional 'Lykodaimonas – The Old Mound's Wolfshape').
The origins of many of the songs go back more than 20 years and, musically, this is like a nostalgic trip back in time to the era of classic Darkthrone and Graveland.
Classic, raw, underground Black Metal with intolerant, inciting themes to shock the masses and provoke gulps of self-righteous indignation. Painting by the man himself included on the insert.
Evilometer: 666/666