I SHALT BECOME – LOUISIANA VOODOO (Inspired Hate Records)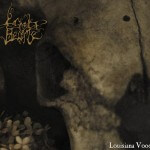 While I (think I) enjoyed the first two or three full-lengths released by I Shalt Become (if memory serves me right, they were somehow dark and dangerous?), either they have changed or I have changed. Because I certainly do not appreciate the music on 'Louisiana Voodoo', which is way too close to Summoning for my liking. Did I ever tell you I despise Summoning?
ISB is one of those acts that drowns its work in pleasant keyboards, resulting in a mesh of classical music and – allegedly – Black Metal.
Except, there's nothing black about this. It's slow and grandiose and sugary and pompous and dull and shit. Nothing remotely sinister happening here. Reminds me of Mickey Mouse. Rubbish. Definitely one to avoid.
Evilometer: 000/666