SVART CROWN – PROFANE LP (Listenable Records)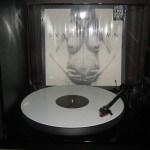 Although the label has unquestionably unleashed some fantastic Death Metal – most notably from Immolation and Incantation – I wouldn't be getting carried away about any of the so-called Black Metal bands signed up to Listenable Records. That said, Svart Crown's third album was intriguing enough to entice me to splash some cash on the vinyl edition, so the French horde is possibly the exception to the rule(?).
Looking for some sort of reference point, I've flicked through a few reviews of 'Profane' (something I rarely do) and have noticed the names Blut Aus Nord and Deathspell Omega mentioned liberally in pretty much all of them. I find this quite amazing as – to my ears – Svart Crown sounds nothing like either of those bands. And I mean nothing like them (stylistically or in any other way)…
What we have here is good, but by no means outstanding French Black / Death Metal, elevated above the norm only by excellent instrumental 'Venomous Ritual', the simmering 'Until The Last Breath' and the pummelling 'In Utero: A Place Of Hatred And Threat'.
All said, this is a reasonable enough record – and it is presented beautifully with all lyrics included on an A4 card – but at the same time there's nothing here to be getting too excited about. Generally (and this album is in keeping with the trend), the quality of recent BM and DM releases has been far from inspiring, which is why I am not saying a lot these days.
Am I glad I bought this? Suffice to say, indifference consumes me. Endlessly, it seems.
Evilometer: 333/666