ILDJARN / HATE FOREST – THOSE ONCE MIGHTY FALLEN 2LP (Osmose Productions)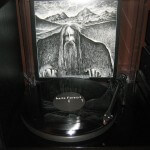 This split album comes as a welcome surprise. Both these acts have ceased to be, so the excavation of lost material from the vaults is the Black Metal equivalent of the resurrection. Except it's real, of course… For anyone who enjoys what could loosely be described as 'raw, forest BM', "Those Once Mighty Fallen' is an essential purchase.
The lost recordings are surprisingly great (the best way to capture the spirit of a bygone era is to be literally of that era!) and have been re-mastered to ensure a better production than what I'd normally associate with Ildjarn in particular. The vinyl edition (heavy gatefold sleeve; 180g discs) is especially substantial as each artist has a dedicated record of their own; also bear in mind that this could be as close as we'll ever get to sampling new material from either.
Nothing more to say: 'Those Once Mighty Fallen' is superb as well as poignant
Evilometer: 666/666