GORGUTS – COLORED SANDS 2LP (Season Of Mist)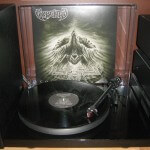 Wow! Holy fuck! Christ on a cross! Shit on a stick! What an unexpected surprise this is. Somewhere in a previous review, I casually dismissed the new Gorguts album, having only half-listened to it in MP3 format. Subsequently, I decided to grant it a proper audience. So impressed I was upon taking a proper listen that I humbly plunged a wad of cash on the double-vinyl edition.
In a nutshell: the supremely-executed occult Death Metal showcased on these LPs has to be heard to be believed.
Compared to the halcyon days, mainman Luc Lemay has assembled a whole new band around him, to the extent where I'm wondering where does Gorguts end and something else begin. But I suppose Gorguts has always been his baby and on 'Colored Sands' he has crafted a full-length that sits easily beside the fantastic 1991-2001 back catalogue.
Steeped in Tibetan / Buddhist mysticism, this concept album truly is a thing of magnificence and, to complete the deal, the records come in a beautiful gatefold cover with lyrics and sleeve notes all included. This is everything I thought 'Odori Sepulcrorum' might be – and then some. Normally, I would be the first to champion something new, but in this instance I have to hold my hands up and declare: leave it to the masters.
Evilometer: 666/666