INCANTATION – DIRGES OF ELYSIUM LP (Listenable Records)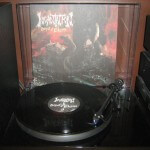 It's a landmark year for sure for Death Metal titans Incantation. The release of their tenth studio album coincides with their 25th anniversary. Whoda thunk a band as obscure as this could last so long? 'Dirges Of Elysium' is another high-quality offering from the trusty Americans and is worthy of a place in any collection.
Okay, there's nothing new or radical going on here but that's surely not what Incantation acolytes are looking for. These guys are masters of their chosen art form at this stage and this album is a solid, dependable slab of evil-sounding, superbly-executed, creepy-crawly death.
Seems Incantation don't do disappointment. Great stuff.
Evilometer: 666/666