XASTHUR / ACID ENEMA – SPLIT LP (Essential Purification Records / Avantgarde Music)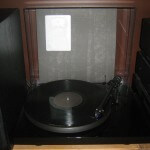 I was a big fan of Xasthur back in the day so it was great to hear that the splits with Acid Enema and Angra Mainyu were getting a belated vinyl incarnation. After thinking longer and harder than usual, I opted to invest in both, mainly because this music is from the early era of Xasthur (before Malefic lost the plot). Two excellent purchases and I couldn't be happier with them.
I have most of Xasthur's material (not as much as I'd like on vinyl, alas) but had never heard the collaboration with Acid Enema before. There are six contributions from each band on here and they are pretty much all superb. Both sides of the record are equally good. You can't go wrong with this release. Record looks pretty neat, too. All in all, a welcome reissue of a lost gem.
Evilometer: 555/666