TERATISM – VIA NEGATIVA 2LP (Behold Barbarity)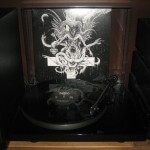 Teratism's fourth full-length was released four years ago but only recently received the double-vinyl treatment. The records come in a classy black-and-white gatefold cover, with lyrics printed on the inside. Interesting lyrics they are, too. Teratism is an evil and Satanic horde and they conjure up a suitably nasty and unrestrained dose of virile and vile underground Black Metal malevolence.
Raw, raucous, possessed, wholesome and potent as a witch's tit, 'Via Negativa' is without doubt a trip worth taking. The etching on Side D does nothing for me but this otherwise represents a fantastic release with some truly enjoyable USBM to sink your rotting teeth into.
Evilometer: 555/666