INCURSUS – ADAESTUO MLP (Forever Plagued Records)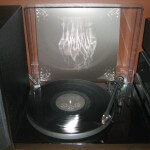 'Adaestuo' is only 21 minutes long but it still manages to convey emphatically just how exceptional an entity Incursus is. I love debut full-length 'Eternal Funeral Trance' and have been longing for the follow-up ever since first clapping ears on the magnificence of that album a few years back (Note to label: vinyl edition long overdue!).
Still no sign of a sophomore LP but this EP will do just fine in the meantime. It would perhaps be unfair to refer to 'Adaestuo' as a stop-gap release because the material on here is of such a high quality. Sharing members with Nightbringer and Demoncy, Incursus sounds quite like the former, delivering some sublime occult Black Metal.
The unsettling, ambient, eight-minute 'Adaestuo IV', which sits alone on Side B, is especially enjoyable. Short but sweet is the order of the day then, both record-wise and review-wise. Which suits my lazy bones. Still need the next Incursus album to materialise sooner rather than later, though.
Evilometer: 555/666