INFERNAL CURSE – APOCALIPSIS LP (Iron Bonehead Productions)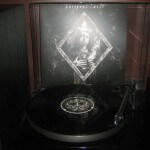 Infernal Curse's second full-length, 'Apocalipsis', surfaced on vinyl earlier this year and it's a heady brew indeed, laden with pummeling, primitive, bestial Death Metal and a dark, oppressive Black Metal vibe that places it somewhere between Revenge and Portal without necessarily sounding like either or.
The Argentinians have forged their own brand of suffocating, dense, smothering but somewhat exotic Black / Death and it's utterly devastating. Not quite as harsh as Genocide Shrines perhaps but suitably headfucking nevertheless.
I needed to remove some varnish from a window board and I blasted this beast out at high volume for a couple of hours and it did the trick. Unfortunately it also removed most of the skin from my children's faces.
The consolation for them is that there's a lovely booklet and inner jacket included and they can maybe play with those if they want when their wounds heal.
Evilometer: 666/666