NEVOA – THE ABSENCE OF VOID (Altare Productions)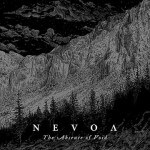 Perhaps this album should have been titled 'The Absence Of Black Metal'. The third track, 'Alma' is utterly shameful – a hideous Gathering-like, female-gushed, lullaby that could just as easily have been culled from Anathema's 'The Crestfallen EP'. As any album is only as good as its worst track, this one is a total shocker.
I'm really disappointed that Altare Productions is prepared to associate itself with something so utterly girly. The rest of the album is rendered irrelevant by said abomination. Nevoa is definitely a band to ignore.
I'm sick of everything and everyone today. No absence of void, here; a-void!
Evilometer: 000/666