INQUISITION – BLOODSHED ACROSS THE EMPYREAN ALTAR BEYOND THE CELESTIAL ZENITH 2LP (Season Of Mist)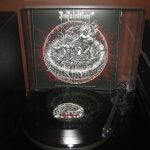 Inquisition strikes again with a seventh full-length and 'Bloodshed Across The Empyrean Altar Beyond The Celestial Zenith' is another solid release as well as a serious fucking mouthful. While there is definitely a law of diminishing returns evident in the band's canon – and the charm of earlier releases (including those magnificent toad croaks) is conspicuously absent on the most-recent output – I still thoroughly enjoy listening to Inquisition.
Even though I prefer the first four albums to the more polished and sterilised material that has emerged since the duo (deservedly, I suppose) migrated onto bigger labels (seemingly more intent on wringing every last drop of cash out of listeners' pockets with ultra-limited editions and exorbitant prices than allowing bands to display their true underground leanings), this is still well worth checking out.
This standard vinyl edition comprises two records in a gatefold jacket, with printed inner sleeves including cosmic-chaotic lyrics; almost an hour of music; something of a slow burner – the album really gathers a head of steam as it progresses. Big production and a mainstream sound that for me flies in the face of what Black Metal is all about.
Inquisition: not as awesome as they used to be but still better than most.
Evilometer: 666/666