CALEDONIAN DARKNESS PART II (The Classic Grand, Glasgow – October 21/22, 2016)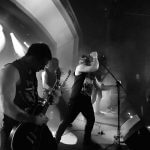 So the greatest show on earth was brought to Scotland over the weekend and what an entertaining couple of days it turned out to be! Having Svartidauði and Dead Congregation pulled from the bill at the eleventh hour (almost literally) made for a dramatic but most unsatisfactory denouement (more about that later) but failed to take the gloss off a truly phenomenal experience.
I arrived in Glasgow on Friday seven hours before check-in time at my hotel so got some breakfast and then shit it back out again in a matter of seconds. What a stroke of luck when we were allowed to check in four hours before the allotted time… Alas, the good fortune would not last…
First up on the Friday evening were the hooded men of London, Qrixkuor, who delivered a stunning performance. Great stage presence and incredible tunes. I found myself wondering was the microphone switched on, so low were the vocals, but this mattered little to me either way.
Barshasketh took to the stage next and, even though I'm not a massive fan of their last album, they gave it everything and produced a commendable display. The bass player looked really pleased to be there.
It was my second time to see Slidhr inside six weeks or so and this was one of the bands I was most looking forward to. Backed by his friends from Sinmara, Jo outdid himself with an intense and commanding set – powerful vocals, masterful execution of songs that come into their own in the live environment, and even an unexpected 'Thank you' at the end. Immense stuff from a rare talent.
Sinmara themselves weren't half bad either! These guys look astounding on stage and they had the audience in the palms of their hands with a hypnotic 45-minute set.
Pseudogod was the surprise of the weekend. A band I was completely unfamiliar with prior to the gig, they tore The Classic Grand a new arsehole.
I thought Urfaust were rubbish and left before Vemod came on stage because I was exhausted and my back was sore.
The following day promised to be the best of my life – five extraordinary bands playing back-to back! I couldn't wait. Decided to give Ifrinn and Devouring Star a miss to conserve energy for the five-band salvo of a lifetime but things were running behind time again so I arrived in time for Devouring Star, who were good.
Then on to the real magic…
Darvaza was nothing short of phenomenal. Stalking the crowd like a man possessed, Wraath is the most demented frontman I've witnessed. I was half expecting him to either pull out a gun and open fire, kick somebody in the face or just stab himself on stage. Completely unhinged, he muttered repeatedly to himself off-mic and genuinely disturbed me. I decided not to go backstage and ask for an autograph.
Irkallian Oracle presented both a visual and aural feast and left me feeling like one of the most privileged individuals on the planet just to be there.
Playing in total darkness bar four candles, Sortilegia were also nothing short of magnificent. Three amazing acts in a row and two more to come. Or so I thought…
Svartidauði is the best live band I've seen so I couldn't wait for them. I was standing at the front of the stage, filled with joy and anticipation, when the announcement came that both they and Dead Congregation had been pulled from the festival. Nifelheim would still play. Fuck Nifelheim. Svartidauði should have appeared as they were next in line.
Both bands who were axed from the show were present at the venue and ready to perform. Sturla Viðar from Svartidauði informed me downstairs inside the front door that he had been in Glasgow since Wednesday and was told in no uncertain terms that he couldn't play. I said I was disgusted and he countered that he was far more annoyed than I was. This is understandable.
It's such a pity this happened at the end of such a sensational celebration of occult Black and Death Metal. Seems poor ticket sales left the promoter out of pocket and the venue owner opted to pull the plug either because he wasn't fully paid or because of some pig blood smeared on a white wall backstage or a combination of both of these things.
The exact reasons given since have been rather confusing (and the link between the backstage incident and lack of ticket sales / funds for all unclear – did the latter prompt the former?) but I think it's safe to say that all of the bands would have played had the festival sold out. I'm amazed that less than 500 people are interested in attending a show with such a wonderful line-up. Say what you want about competition from other festivals and the lack of disposable income people have these days but, for me, this was a line-up that will be hard to top.
Makes me worry about the future of such events. Will we ever see anything like this again? A lot of people lost a lot of money. It's a shame there isn't more appreciation for this wonderful music and these wonderful bands and great people.
A sad end to a monumental two-day ritual.