MONS VENERIS / VETALA – THE NINES OF SATANANTICHRIST LP (Altare Productions / Infinite Darkness Productions)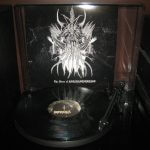 Blink and you missed it. This split LP emerged without so much as a warning and was sold out quicker than you could shake a meaty, inflamed fist at the sky. And, with two of the dank Portuguese Black Metal underground's finest exponents enlisted for service, 'The Nines Of Satanantichrist' is – unsurprisingly – remarkable.
A truly mesmeric projectile of raw, depraved, chaotic, insane lamentations, perhaps echoing the anguish and emptiness of (m?)any maniacal devotees to darkness who failed to secure a copy. Hopefully more copies will become available somewhere down the left hand path because this is a stellar release that epitomises everything that's great about the dark art we all love and cherish.
Stunning.
Evilometer: 666/666