INQUISITION – INTO THE INFERNAL REGIONS OF THE ANCIENT CULT 2LP (No Colours Records )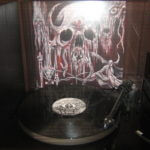 Incredibly, it has now been 22 years since this masterpiece of trailblazing Black Metal was recorded. Inquisition introduced a really unique style of BM to the underground, with a cosmic vibe and an almost naïve, innocent sense of evil that truly stands the test of time. Somehow, that old-school evil is the best of all!
Debut 'Into The Infernal Regions Of The Ancient Cult' is a sprawling full-length (66 minutes and 6 seconds, aptly, although this version is much longer, with four bonus rituals) that sounds fresh and nasty every time I revisit it. I dusted it down again today as the landscape here is covered in snow and – wow! – it's still fucking awesome. How I enjoy those toad-like vocals.
It's been re-released multiple times and remains widely available. Just a majestic slab of occult Black Metal that marks the beginning of one of the subgenre's most enduring and important acts. Stunning.
Evilometer: 666/666