INTHYFLESH – CRAWL BENEATH OUR SHADOW LP (Drakkar Productions)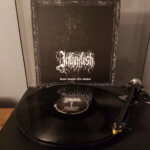 Beginning with the venomous, contemptuous 'Worship Darkness Rising', Inthyflesh pour scorn and ridicule on religion ("all meaningless creeds") and celebrate the end of the known world; with it humanity itself. Let there be no mistake: we are in the realms of misanthropic, primal, Christ-crushing invective, with one polemic outburst after another laying waste to the kingdom of the fraudulent one and spilling the blood of all hapless devotees here on earth.
A monochromatic portrait captured for posterity from a then fledgling scene in Portugal, drawing influences from what was happening in Scandinavia and closer to home in France, 'Crawl Beneath Our Shadow' is Inthyflesh's tormented debut full-length, initially offloaded in early 2004 and instantly singling the ravenous, spiteful Portuguese horde out as one of Lusitânia's most potent and relevant Black Metal forces. This recording showcases the death dealers at their purest, most primitive and hate-filled best / worst and – even all these years later – it's impossible not to be impressed by the genuine disgust and bitterness that permeates every moment.
Inthyflesh have released more than their fair share of magnificent material down through the years, but for whatever reason not all of it has been given the vinyl treatment. Indeed, this Drakkar Productions edition represents the first appearance of the long-forgotten and overlooked debut album on LP format, while the stunning third full-length, 'Claustrophobia', and its vast follow-up, 'The Flaming Death', remain frustratingly unavailable on black wax. Here's hoping that might change soon, with the floodgates perhaps now open…
It was certainly worthwhile reissuing this landmark release as it's nice to get a taste of the formative era of such an under-rated and important act. There's almost three-quarters-of-an-hour of nihilism and negativity to sink your rotten teeth into and 'Crawl Beneath Our Shadow' is a poignant reminder of just how potent and moving raw and raging Black Metal full of hatred and passion can be.
Evilometer: 666/666