IRKALLIAN ORACLE – GRAVE EKSTASIS LP (Nuclear War Now!)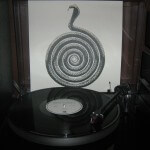 An apocalyptic raid erupting within walking distance of the intersection on the metal motorway where Death Metal and Black Metal converge, 'Grave Ekstasis' is a harsh and unforgiving dose of extremity. Fierce and vitriolic, it never lets up over the course of its 44-minute duration (five songs) and is certainly one of the most interesting debut albums I've encountered in a long time.
Originally recorded in 2012 but remastered for this latest incarnation, the vinyl edition comes with some fantastic artwork, a poster and a lovely booklet with lyrics. Great lyrics, by the way. Don't take my word for it, though: check this monster out on Bandcamp or something and make your own mind up.
Evilometer: 555/666