ENTHRONED – SOVEREIGNS LP (Agonia Records)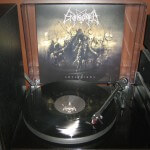 Having undergone a dizzying amount of line-up changes and personal setbacks, Enthroned should probably no longer be relevant. That's usually how it works…  In fairness, nobody could have faulted mainman Nornagest for throwing in the towel ages ago. Instead, some twenty (!) years down the line, Enthroned is back with yet another new cast and a tenth full-length album.
For my money, 'Sovereigns' also happens to be Enthroned's best record to date bar none.
Now sharing a member with Nightbringer (not a bad way to keep things relevant), the Belgian blitzkrieg blasts through eight new outlandish offerings plus an intro in just over 40 minutes. Surprisingly, this album manages to top the amazing 'Obsidium' from two years ago and the vinyl version comes in a glorious gatefold jacket with 12×12 inlay.
Not many bands can manage to pull off that all-too-elusive, truly angry and evil sound as effectively and convincingly as Enthroned. Some nice dynamics and variation add to the enjoyment quotient on a stunning release.
Evilometer: 666/666