JASSA – LIGHTS IN THE HOWLING WILDERNESS LP (Fallen Empire Records / Amor Fati Productions)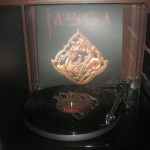 If, like me, you bemoan the tragic, premature demise of Hate Forest then you could do worse than checking out Jassa's second full-length album, 'Lights In The Howling Wilderness'. I'm not sure how politically correct or offensive it is to compare Russians and Ukrainians these heady days but I've just done it and there's no turning back now.
This is a superb, ritualistic, otherworldly record with a majestic aura, exotic instrumentation and ominous drums that betimes sound like human bones hitting off coffin lids. Sometimes it gets a bit muddled and seems to be losing direction and focus and threatening to come apart at the seams … in true Black Metal spirit.
Evilometer: 666/666