JASSA – INCARNATION OF THE HIGHER GNOSIS LP (Fallen Empire Records)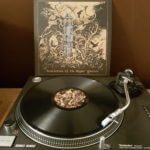 Due to my ever-diminishing vocabulary and inadequate intellect, I have no idea whatsoever what an incarnation of the higher gnosis is – or could purport to be – but verbose, bordering-on-nonsensical album and song titles have always been a key part of the Black Metal and Death Metal experience for me.
Though its meaning eludes me, 'Incarnation Of The Higher Gnosis' is nevertheless a fitting title for Jassa's rather wonderful third full-length, which is in essence a superb offering of mysterious Heathen Black / Death Metal (overlap between the two subgenres very evident) emanating from the top left corner of the Motherland, not far removed from Finland (geographically, not sound-wise).
Hate Forest is a reliable reference point but Jassa have their own distinct sound and the lack of hype around this entity in our sickening, race-to-the-bottom era of feverish online clambering, needy posturing and instagratification is frankly baffling.
Evilometer: 666/666