KÊRES – BOOK OF DESIRE LP (Kuunpalvelus)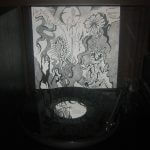 Even by Black Metal standards, Kêres is anomalous and difficult to fathom. Great music but for whatever reason he's reluctant to share it with the masses. I can understand the logic behind it from the perspective that clearly all people are cunts so why bother giving them any pleasure, but the counter argument is why the fuck not press more copies just for the hell of it?
I didn't bother reviewing 'Battle Secrets' for the reason that there is no point really and the same applies to 'Book Of Desire', which is so limited that it sold out within hours. So this isn't available anymore and that's a shame because it's fantastic. Interesting lyrics full of riddles, excellent music performed with passion and pathos and definitely an album that could shift at least 500 units on vinyl. Which just ain't going to happen, alas.
I suppose ultimately you can only admire the refusal to follow convention and perceived norms. Or to cash in on his talents… Why? Why not?
Evilometer: 666/666