CLANDESTINE BLAZE – CITY OF SLAUGHTER LP (Northern Heritage Records)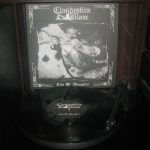 Clandestine Blaze is one of the most enduring, essential and downright awesome entities in Black Metal and has consistently delivered music of the very highest calibre. Even though the back catalogue is immense and every album is laudable, Mikko's one-man sledgehammer does appear to be gathering momentum with each release.
Ninth full-length, 'City Of Slaughter' is everything I hoped it would be – and then some. A historic release in that it's the 100th to appear under the Northern Heritage banner, this monumental record is nigh on perfect from start to finish. The savage, gigantic nine-minute 'Return Into The City Of Slaughter' provides a suitably epic centrepiece to a dark, moody, atmospheric, angry and hate-filled album from an inspired artist who has perfected his crafty craft, honed his hateful hate and learned how to perfectly channel his disgusting disgust.
I always enjoy reading Clandestine Blaze's lyrics and this record (most notably the aforementioned opus) certainly doesn't disappoint in that regard, either. Wonderful.
Evilometer: 666/666