THRONEUM – MORBID DEATH TALES LP (Hells Headbangers Records)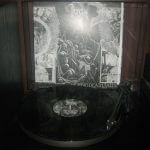 'Morbid Death Tales' is the seventh full-length from primitive Polish Death Metal duo Throneum and, even though it only emerged late in 2016, it has already been succeeded by an eighth. There are eleven fairly simple and straightforward raw, recorded-in-a-garage songs on the record and the running time is less than 33 minutes, so it's a pretty easy one to digest.
Not least because compatriot Mark Of The Devil of Cultes Des Ghoules fame lends his voice to the last two hymns, which gives the LP a whole extra dimension … filthy Death Metal with a little sprinkling of Black Metal gold dust at the end. Not a gimmick, no, this is great stuff.
Evilometer: 666/666