KORGONTHURUS – KUOLLEESTASYNTYNYT LP (Woodcut Records)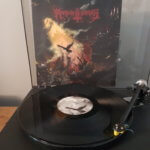 Veterans Korgonthurus return with their third full-length, 'Kuolleestasyntynyt', six cuts totalling more than 38 minutes of harrowing, forlorn and relatively raw Finnish Black Metal. Although far from the most hyped Black Metal entity from northern shores, Korgonthurus are certainly one the more consistent and dependable, invariably delivering music of the highest quality.
The first aspect of 'Kuolleestasyntynyt' to jump out at me was the splendid cover artwork, which comes into its own on the gatefold LP edition. The music itself is deeply emotional, aiming for and hitting that elusive middle ground between raw and melodic with consummate ease. Corvus, of course, provided vocals on some of the best Horna records and, in keeping with his status as a true stalwart of the Black Metal scene in Finland, everything is professional and competent, each song imbued with an infectious quality.
Soaring, spine-tingling riffs and disconsolate shrieks spill from the speakers, mostly at slow-to-mid-pace, creating a feeling of dread, but triumphant rather than defeatist. Each track has an epic feel – none more so than the nine-and-a-half-minute parting shot, 'Nox', with its mellow acoustic denouement, which offers a decidedly atmospheric and pleasant end to proceedings.
And therein lies the problem. I prefer dark art to be harsher, rawer and grimmer over all. Korgonthurus have been producing important, high-quality music for the best part of two decades and this latest record continues that trend, but it's also lacking some of the danger and authentic darkness that's an essential component of Black Metal.
Evilometer: 333/666