IRAE – LURKING IN THE DEPTHS (Signal Rex)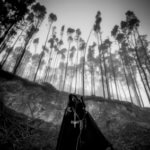 Having migrated into the most natural of new surroundings on Signal Rex, one of the foremost forces in the Portuguese Black Metal underground, Irae, strikes contemptuously with stellar fourth full-length, 'Lurking In The Depths'. The nightmarish and wholly distinct one-man creation of Vulturius, Irae has been cursing humanity with venomous, nihilistic Black Metal depravity for 17 years and counting, never following trends, a veritable law unto itself.
The creator is of course involved with a slew of other Black Metal hordes in his native land but Irae has always been a vehicle for his rawest, harshest and most single-minded expressions. Thus, what we get is focussed, undiluted evil aimed at the very heart of the human filth indelibly staining this dying universe with its presence. One of the elder statesmen of the Black Circle brotherhood and firmly established as one who sets trends rather than following them, Vulturius shrugs off the pressure that might come hand in hand with this status, ignoring the weight of expectation to produce what is arguably Irae's most mature and confident album to date.
While it's still raw and shrill and analogue as all fuck, the subtle nuances and playful variety injected into the material elevates 'Lurking In The Depths' to a level that most raw Black Metal acts could only dream of. 'A Blaze In The Mist', for example, is awash with lush, majestic, almost psychedelic undercurrents that magickly render it both mercurial and simultaneously disturbing, while 'Encurralado' is another Satanic ode that demonstrates wonderful ambition (fulfilled, of course) and devilish friskiness, each of the eight individual offerings a delight in its own right, the album as a whole excellently crafted, masterfully executed and a stellar specimen showcasing the incredible heights raw Black Metal can reach when you enrol the truly possessed.

A deliberately subdued production stubbornly refuses to let the clever subtleties burst out at once but repeat listens serve well in revealing the myriad layers of dark art lurking in the depths. Rolling, thundering drums at the climax of 'Between Ruins' could be thigh bones battering on coffin lids at the funeral of mankind, the beguiling, head-spinning 'Calor, Fome e Doenças' black enough, exceptional enough to take your breath away.
Some of the lyrics for 'Lurking In The Depths' were composed with the novel coronavirus embarking on its relentless crusade across Europe and, as we all wonder what the fuck is really going on, this inimitable, unique and deceptively quirky album – for me Irae's crowning glory to date – is a fitting soundtrack to the strange times we live (and die) in.
Evilometer: 666/666