KRINGA – ALL STILLBORN FIRES, LICK MY HEART (Terratur Possessions)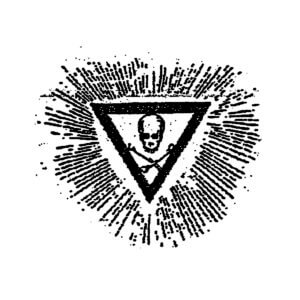 Casting seven sorcerous spells from the godforsaken outpost that is the eastern realm, the inimitable, trailblazing channellers of outlandish auditory enchantment and beguiling bohemian bewitchment return with second full-length, 'All Stillborn Fires, Lick My Heart' – another heady, toxic brew indeed from one of Black Metal's most peerless covens. Culminating in the frenzied, rabid insanity of 'Yoke of a Mirror Shard', the potentially-awkward follow-up to the magnificent 'Feast upon the Gleam' demonstrates euphorically and emphatically that Kringa is not alone a rare outlier but one unsurprisingly immune to the plague that blights more bands than it spares: the dreaded second album syndrome.
Punk-infused decadence, depravity and mania is enhanced by (trademark) obscure, puzzling but decidedly bothersome lyrics to initiate a poetic, psychotic plunge into maddening, impenetrable darkness. Quirky, radical Kringa – rabble rousers, rabid revolutionary voyagers across the vault – conjure and consecrate 42 minutes of bizarre black lunacy. The recording is at once weird and delightful, a hysterical and bloody ejaculation of inharmonious art punctuated with all manner of hollers, screeches and otherworldly vocal emissions.
Masterful musicianship is to the fore, with rumbling, bubbling bass prominent in the mix, no more so than dispersed unsparingly across the rotten vegetation and dead soil of 'Gardens in Bloom' or on the nocturnal meanderings of the eclectic and multihued near-nine-minute anti-orchestral revelation, 'Vortex of Stillborn Fires', which in turn segues into the purging disquiet, alienation and coldness of 'Improvisation N.A.4.7.', where Kringa offer a further glimpse of the inherent oddball strangeness that sets them apart from an oftentimes sterile and derivative quagmire of stagnating mediocrity.
Immediately transporting the disorientated listener on a mystical, magical sojourn to the vast eternal emptiness of the abyss, 'Across the Firmament, Stride!' opens proceedings in real style and what follows is an almost irrational discharge of the most idiosyncratic, occult Black Metal you could wish to encounter in these dark and dreary days of soul-destroying dross, endless disappointment and spiritual obliteration.
Evilometer: 666/666