KULT OF TAURUS – ADVERSARIAL PATHS: THE SINISTER ESSENCE LP (Iron Bonehead Productions)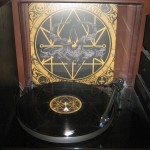 Kult Of Taurus's second full-length has been issued on CD by Forever Plagued and on record by the ever-dependable Iron Bonehead Productions. The vinyl edition of 'Adversarial Paths: The Sinister Essence' is housed in a beautiful gatefold jacket and is embellished by a delightful 16-page, 12×12 booklet which contains the lyrics to all eight cuts as well as some typically occult artwork.
It's a fantastic package offered to the masses at a fair price (as is the CD…) and the music is decidedly stellar, too. Otherwise, I wouldn't have bought it. The drummer is called Hellscum. What more could you possibly want?
Evilometer: 555/666