LLUVIA – ETERNIDAD SOLEMNE LP (Fallen Empire Records)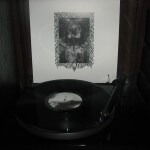 Since heartily digesting the excellent debut full-length, 'Premonicion De Guerra', I've come to learn that Lluvia is Spanish for rain. This is indeed apt as the follow-up album is essentially a morose, melancholic soundtrack featuring a gushing flood of grey rain and some stellar Black Metal too.
'Eternidad Solemne' is very melodic [chilling melodies], very atmospheric [sombre atmospheres], very dark [dark dark] and very good [fucking great]. All in all, this is a superb bleak, depressing record featuring 44 minutes of harrowing anguish and delightful subdued instrumentation.
You can't go wrong with this. Actually, you can, because it's sold out.
Evilometer: 666/666