LEVIATHAN – TENTACLES OF WHORROR 2LP (Funeral Industries)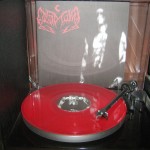 Leviathan's sophomore full-length 'Tentacles Of Whorror' is every bit as good as– if not better than – his incredible debut, 'The Tenth Sub Level Of Suicide'. Originally released in the summer of 2004, this stupendous album now gets a double-vinyl makeover from Funeral Industries, offering those who missed out first time around a great chance to make up for lost time.
The release also provides already-converted souls like myself with another opportunity to grab 'TOW' on black wax. The inclusion of a bonus track brings the running time to a hugely-generous 75 minutes, so this is in actual fact a double album in every way. The only record(s) I've listened to this past week and a timely reminder of how awesome Leviathan was / is (even if the label didn't quite pull out all the stops in terms of packaging / presentation (basic gatefold without printed inner sleeves or lyrics)).
Evilometer: 666/666