LEVIATHAN – HOWL MOCKERY AT THE CROSS 2LP (Funeral Industries)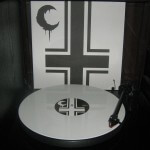 The considerable momentum that had been generated by the genesis of Leviathan's first two albums, 'The Tenth Sub Level Of Suicide' and 'Tentacles Of Whorror' in 2003 and 2004 respectively (not to mention the legendary split with Xasthur), was lost the following year when a couple of odds-and-ends collections masquerading as full-lengths appeared. 'Howl Mockery At the Cross' and 'A Silhouette in Splinters' were reasonable efforts by any other standards … but, crucially, were not prime Leviathan.
I don't know if the infamous dispute with Moribund Records had already started to have an effect on Wrest's output but the drop in quality and consistency was marked. 'HMATC' is a decent enough concoction of tunes in its own right, but is also unshakably disappointing as it represents the beginning of a dark and uncertain period.
Probably still worth checking out (I bought this 2LP even though I already own the original CD edition) but unquestionably not the real deal compared to the two gargantuan full-length propers that preceded it. During the intervening nine years, we've only had two more Leviathan albums – 'Massive Conspiracy Against All Life' in 2008 and 'True Traitor, True Whore' in 2011. There have been some splits and the Lurker Of Chalice album, too, but it's a real shame the way things have petered out after the bountiful and inspired inception of this great ambient Black Metal act.
Evilometer: 333/666